Anne Pro 2 - 60% Dual Mode Mechanical Gaming Keyboard

Brilliant per key RGB backlighting

Full-key RGB With Unique Design


Programmable 16.8 million RGB backlight supporting full-key static and dynamic lighting RGB customization. Get freedom to change the style as and when you like. Lighting can also be reprogrammed through ObinsLab Starter. RGB backlights are individually addressable and dynamic lighting effects can also be programmed as well. Lighting profiles can be created, saved, and loaded to the keyboard through the software effortlessly.

Magic FN Key



To make the keyboard portable yet retaining the essential keys required for functioning, the Anne Pro uses magic Fn keys. The magic key can copy the FN key function that gives you a quick access to your media player, custom function etc. By using the double clicking the FN key, you get a quick access to multimedia key, homepage, custom function, etc.


Arrow Keys on Keyboard via Tap Mode


Tap key functionality enables keys to behave differently when tapped or held. By default the Right shift, Fn1, Fn2, and Right control behave as arrow keys when tapped. Easy access with a unique experience.

Full Key anti-ghosting with full key rollover
Wired or Wireless
A portable and sturdy design. A gamer who enjoys to play in cable mode or a freelancer looking for something portable or desk user who loves a mess free desk. Anne Pro 2 is a perfect choice for all.
Compatible with different devices
Anne Pro 2 can be used wireless with Bluetooth 5.0 (Windows 8/10̵ Mac̵ OS Linux Android 4.4 and above, IOS 7.0 and above). It allows you to enjoy a high-level typing experience of the mechanical keyboard.
Larger battery capacity
With a battery capacity of 1900mah, it lasts for upto 8 hours on wireless usage. There is also a built-in on/off switch to conserve battery power during transport or when not in use. There is also an overcharge protection to save the battery from power depletion.
Double Shot PBT Keycaps
Anne Pro 2 provides an excellent physical support of excellent typing or gaming experience. It's elegantly crafted like the 1st Gen of Anne pro with its features like smooth and round plastic chassis PBT keycaps.
USB Type-C Connector
Anne Pro2 freely use Type-C connection to plug and play under wired mode. No need to distinguish between positive and negative, game and office, easy to use.
Powerful In-built Chip
The powerful onboard Dual ARM Cortex-M chip with large memory capacity can save user-defined Tap, Magic Fun, lighting effect, alignment, and macro settings without affecting its own functions.
Take Control & Update With OLS
Offline Macros
Up to 16 key macros that can be programmed through the computer software. Each group of macros can set 300+ characters of macro code which also support combination keys. Saved macros are stored onto the keyboard onboard memory and don't need the use of the computer software to get activated.
Software Control Center
A dedicated software PC driver that supports RGB settings, macro settings, and full-key programming. ObinsLab Starter Companion Software provides users with the biggest extent of keyboard customization and personalization. Each key can be set to the desired color. Don't limit your imagination.
Simultaneous Response Without Conflict
Anne Pro2 supports full key with no conflict in wired mode. Even if you press all the buttons at once, there will be no key conflicts. It allows you use smoothly no matter in work or game playing.
* Full key without flashing support BIOS.

We accept major pay methods
Customer Reviews
best keyboard
everything is working great?
05/31/2020
Darlene R.
United States
05/30/2020
Yahir C.
United States
I highly recommend it!
I originally bought this for a second PC but I ended up liking it so much I replaced my Corsair K70 as the keyboard for my main PC. Mostly due to its awesome switches and extra mouse pad space this keyboard left me with. The Ann Pro also made me look beyond the popular Cherry MX switches that everyone rages over. I got the Gateron Browns and they are so much more satisfying to type on then their Cherry MX counterparts! I personally really like the software as well as I was able to make macros and change certain keys (changed right Alt key to Delete) and no longer miss having a full size keyboard. I liked the Ann Pro so much that I later bought a Ducky One 2 Mini thinking it would be a better board due to all the reviews. I was disappointed with the Ducky due to the lack of software and Cherry MX Browns not being tactile enough. Compared to the Ducky; the Ann Pro 2 is the more enjoyable keyboard. I highly recommend it!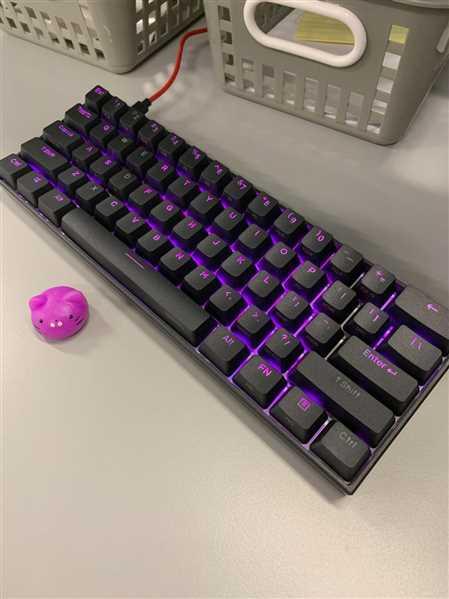 05/29/2020
Aida p.
Zealand
Perfect little keyboard
First time user on a 60% keyboard and first off, I must say wow. The fact that you have everything a full keyboard has within something this compact is amazing. Now secondly comes remembering that not all my keys are present and there's some commands you must do to trigger the other keys. So the longer you use it it will become muscle memory. Gaming on this keyboard is far better than my previous boards by far. Have to say so far very impressed.
05/28/2020
Matthew J.
Australia
Great keyboard, best at this price!
The keyboard itself is amazing. The gateron red switches are smooth and give great feel when gaming, but also are quiet and flow nice when typing. It is easy to make mistakes if you type quickly but you grow accustomed to the linear switches. The only reason for the 4 stars and not 5 is because I've encountered some problems with the software (used to change the led light on the board) as well as my pc not detecting the keyboard. To fix the pc not detecting keyboard simply reinstall the oldest firmare and then 2nd newest firmware then restart your pc. It gave me a hassle and i've only had it a few weeks, but no problems since i fixed that problem. All in all, amazing keyboard! Would love to try more of their products!
06/01/2020
Anne Pro | 60% Mechanical Keyboard, with programmable RGB backlights
Hi Matthew, Sorry for the inconvenience caused. And that's great you make it. You can contact us anytime if you need.